Mission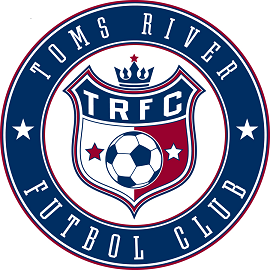 Toms River FC offers something for every player. The mission of TRFC is to provide our member families and children with a place where they can develop the skill and knowledge to play, as well as respect and enjoy, the world's game of soccer in a safe, fun and challenging environment.
From our Clinic Program through to our nationally competitive Travel and PDA Shore teams, our primary goal is player development. TRFC's purpose as an organization is to ensure that each child is placed with players of similar ability and level of commitment, so they can be continually challenged, but never overwhelmed.
Athletes with special needs see TOPSoccer under programs.
Offered Programs
Clinic:
This program is designed for inexperienced players in the U4-U6 age groups (generally, players from ages 3 to 6, see Soccer Age Group Determinationfor exact ages), and stresses soccer fundamentals, skills and good sportsmanship. Clinic is a non-competitive program in which no standings are kept and the sole purpose is to teach the game.
Find out more here…
Recreational:
This program is tailored specifically for children in the U7 and U8 age groups and serves to enhance the skills taught in the Clinic program, while introducing these children to the concept of competition. It also provides a place to play and learn for the older child, in the U9 and U10 age groups, whose skills and/or experience might not be sufficiently strong to allow them to succeed in the travel team program
Find out more here…
Travel:
For players in the U8-U18 age groups who have the skill and interest, the Travel program provides the challenge of true competitive soccer. Experience is required in most cases and players typically must attend a tryout to ensure their skill level is appropriate for the team. Although we will make every effort to place every child that wants to play, placement cannot be guaranteed at this age level.
Find out more here…
PDA Shore (Girls):
It is with great pride and excitement that PDA and the Toms River Football Club announce the strategic partnership of two of the top soccer programs in New Jersey. TRFC becomes the first affiliate member with the PDA and will look to draw the top players from TRFC and the Jersey Shore.
Through the affiliation, PDA and TRFC will be working together to provide a foundation of quality and experienced coaches that will allow top players the opportunity to develop and compete at the highest level. PDA and TRFC have experienced leadership and a proven track record for player development.
Specifically for advanced female players in age groups U9-U18, our goal is to attract high-level players from the entire Shore area. Emphasis will be on player development for those who have the desire and commitment to and for a more demanding program. Professional training and game day coaching, as well as participation in high visibility tournaments will be stressed.

For more information, contact PDA Shore Director of Coaching, Lee Pollard
Find out more here…

U7 Player Pool :
The U7 Player Pool Program is TRFC's FREE program for the U7 player, designed to build on the foundation blocks set out in the Clinic and U6 In-House Programs. Ball manipulation and control are continued to be taught while at the same time beginning the introduction of basic ideas of cooperation and teamwork using game like activities and small sided games. The player pool concept will be used whereby players will be assigned to trainers randomly to vary exposure to all players in the age group and to better prepare them for transition to the travel team model.
Find out more here…
U8-U10 Player Pool:
The TRFC Player Pool Development Program is an 8 week program designed for all U8-U10 aged players. TRFC Professional Staff conducting the training sessions using a guided discovery methodology. Players at all abilities including recreational and travel can attend the program at no cost. Emphasis is on individual player development and reinforcement of fundamentals while developing the player's own soccer innovation.
Find out more here…
Beyond 90:00 Clinics and Camps:
The Beyond 90:00 training organization has been working as an integral part of TRFC from its inception.  Beyond 90:00 provides additional instruction and focus on specific areas through a series of camp and clinic offerings throughout the year, outside of the player's normal team environment.
Find out more here…
TOPSoccer:
US Youth Soccer TOPSoccer (The Outreach Program for Soccer) is a community-based training and team placement program for young athletes with disabilities, organized by youth soccer association volunteers. The program is designed to bring the opportunity of learning and playing soccer to any boy or girl, who has a mental or physical disability. Our goal is to enable the thousands of young athletes with disabilities to become valued and successful members of the US Youth Soccer family.
A TOPSoccer player is defined as any youth player between the ages of 4 and 17 who has a disability that limits their ability to perform at the level of play in which they have chosen to participate.
Find out more here…
If you have questions or special requests, please email us at registrar@tomsriverfc.com.
Find us online